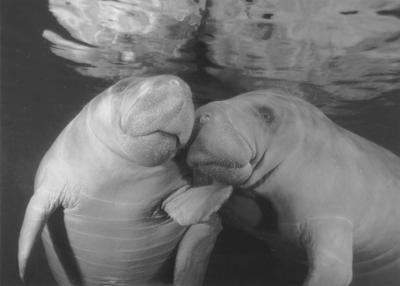 We received this message from the Parks' Natural Resources Group late last week:
"We had a bona fide manatee sighting in the Hudson River heading North. This particular animal has been making his way north up the coastline with sightings reported first at 23rd Street and then later at 125th (40.81826 N - 73.96201 W). On both occasions it was observed at the surface adjacent to the bulkhead and appeared to be heading further north up the river. As you can imagine, we are very anxious about hearing about our wayward visitor... The animal has been described as approx. 10 feet in length and has barnacles on its dorsal surface. If you could both spread the word to anyone who may be in the vicinity to keep their eyes open. We are looking for photo-documentation of the animal and wish to be advised of any sightings immediately."
Since manatees' range is usually limited to peninsular Florida, and occasionally as far north as Virginia, this particular animal is either: a) a psychopathic vagrant (use caution) or b) a manatee real-estate agent, getting in early on the New York waterfront's global-warming
transformation
into a sub-tropical mangrove swamp.