Over the past summer, high school seniors at L.A.'s Manual Arts High School pored over graphs from environmental sensors like the one above as part of the "Black Cloud Citizen Scientist League," a game designed by Berkeley artist Greg Niemeyer.
Niemeyer and teacher Andy Garcia hid these sensors in various places inside the students' neighborhood where they expected to find big difference in pollution levels: a dry cleaner's, a gas station, a nail salon, and inside the classroom itself. The object of the game, for the students, was to discover where the sensors were - mostly by analyzing the data from the sensors and learning about the factors that influence air quality in their neighborhood.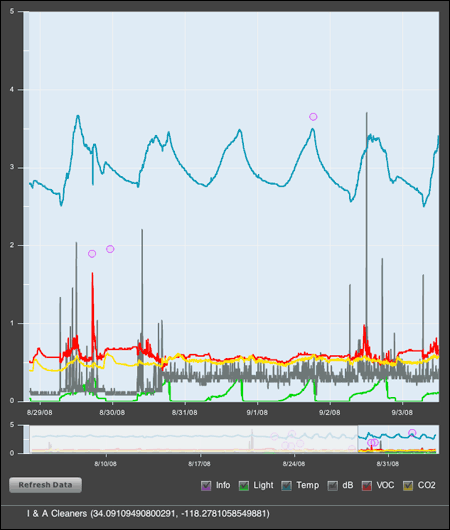 Sensor output from an Echo Park drycleaner business, showing data on light levels, temperature, noise, volatile organic compounds (VOCs), and carbon dioxide. Image courtesy of
Planetizen
.
Some of the project's outcomes were surprising.
On his blog
, Niemeyer writes that the gas station's VOC levels were relatively low: the sensor was placed inside, next to an ice cream freezer, and gasoline vapors rarely reached it. But students also learned that their neighborhood's carbon dioxide levels, at 600 parts per million, were almost twice as high as most places.
Most disturbingly, students learned that
their own classroom
had CO2 levels around 3,000 parts per million - high enough to cause fatigue and poor attention span in most people. Students responded by opening doors and windows to improve ventilation, and they watched the CO2 levels decline. But the lessons of the classroom's conditions can be applied to the whole city,
according to Neimeyer in a blog post he wrote at the project's conclusion
:
After 6 weeks of tracking Black Clouds in LA, our observation is that in some places the air recovers, and in others, it gets worse. Recovery happens either because powerful HVAC systems run all night to clear the air, say, in the Metro Transit Authority office building, or because someone put many plants in their space, such as at Machine Project. In places like the Manual Arts High School room p74, pollutants concentrate throughout the week and get barely a chance to clear up during the weekend. If we scale these observations up to the whole city, well, LA's air does not recover because it moves offshore at night just to move onshore again the next morning. Our conclusion is that we must find ways to let the air recover. We call it eco-fasting. How about not using the car every other day, voluntarily? How about growing plants indoor to clear the air while we're at work? How about using no electricity all weekend?
The Black Cloud sensors are now monitoring conditions at various locations in Los Angeles's Echo Park neighborhood and around the UC Berkeley campus. Visit
the Black Cloud website
to look at graphs of current conditions.
You can also
read more on Planetizen, where I learned about this project.