This Guardian summary of the latest record-breaking temperature data from NOAA
is chockablock full of staggering and depressing facts. Among them:
Last month was the hottest June ever recorded worldwide and the fourth consecutive month that the combined global land and sea temperature records have been broken.


According to NOAA, June was the 304th consecutive month with a combined global land and surface temperature above the 20th-century average. The last month with below-average temperatures was February 1985.


Separate satellite data from the US National Snow and Ice Data Centre in Colorado shows that the extent of sea ice in the Arctic was at its lowest for any June since satellite records started in 1979.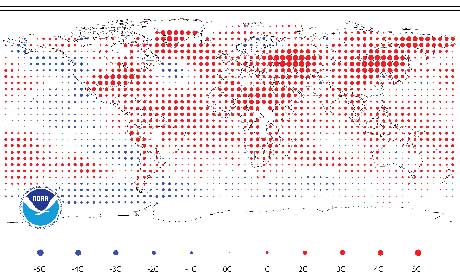 I found this report via
Wired
writer
Bruce Sterling's Twitter feed
, where he made the powerful observation that we'll spend the rest of our lives "dolefully watching physical realities like 'hottest month ever recorded.'"
Future heat waves will break records of the less-distant future, which themselves will outdo these heat extremes of the present day. Struggling journalism institutions like the Guardian will cut costs by recycling the same report, tweaking the details as necessary, and someday soon getting rid of the reference to Arctic sea ice when Arctic sea ice disappears altogether.
But at some point, the reports will cease. When agriculture fails and as more and more nations collapse over water shortages and economic turmoil, organizations like NOAA will either lose their capacity to collect and analyze global climate data, or cease to exist altogether. At that point in our lives, if our lives haven't gone the way of our political and economic institutions, we'll no longer be burdened by these reports and their staggering statistics.
We'll merely be burdened by the staggering reality of a broken world.